Rezerwuj wyjazd
Skorzystaj z bezpłatnej pomocy konsultanta Sanatoria.org przy rezerwacji pobytu.
Rezerwacja sanatorium
Cenniki
RÓWNICA pobyt leczniczo-sanatoryjny
zobacz cennik
Ostatnia aktualizacja: 2015-01-29

Resort description:

Ustroń resort is a place which attracts visitors with its beautiful landscape, professional service and nice atmosphere. Here you can not only relax but also care for your health and renew your strength.

In our Resort Natural Treatment Establishment we offer a wide selection of treatment beneficial to the therapy for certain ailments, including diseases of a locomotor system. Company buildings are adjusted to the use by the disabled and professional staff is always ready to help you.

Resort Company "Ustroń" S.A. offers treatment with the use of natural healing materials, such as:
1. salt springs from our own boreholes, beneficial in case of diseases of locomotor system and respiratory system,
2. peats also extracted from our own resources, beneficial in case of diseases of locomotor system and neural system.


In 2005 the Establishment of General Cryotherapy was started which offers treatment in low-temperature chambers (-110 C) which influences the general well-being, removes fatigue symptoms and is a perfect form of biological regeneration. Apart from that, a cryochamber has a beneficial influence on immune system and has an analgesic effect as well as slows down the process of aging.

Medical and nursing care is provided 24 hours a day. Medical staff involves specialists in cardiology, rheumatology, rehabilitation, balneology and physical medicine, neurology, pulmonology and other specialisations.

Treatment is provided as typical spa treatment lasting the maximum of 14 days due to the necessary duration of peat treatment and salt-spring baths (at least 10 treatment sessions).

YOU ARE CORDIALLY INVITED!
Treatment profile:

:
,


:
,


Allergies:
respiratory allergies,


Cardiologic:
Cardiac arrest, ,


Circulatory system:
Hypertension, Coronary disease, States after cardiac arrest , Vasoneurosis, States after heart surgeries, valve surgeries and blood vessel operations , Venuos system disorders,


Laryngological:
Sinusitis, Pharyngitis,


Metabolism:
Diabetes, Obesity,


Nervous system:
Lumbago, Lumbalgia,


Neurological:
Brain injury, Cerebral palsy in adults , Multiple sclerosis, Parkinson's disease, Neuralgias, Sciatic neuralgia, Spinal degeneration,


Organs of movement:
Rehabilitation after hip replacement, Post-traumatic states of joints and bones , Post-traumatic states of soft tissue, Arthritis, Spondylitis, Osteoarthrosis, Faulty postures and congenital malformations , Post-surgical rehabilitation, Osteoporosis, Post-mastectomy rehabilitation, Rehabilitation of the disabled,


Psychotherapy:
, ,


Respiratory tracts:
Chronic pneumonia, Asthma, Infections of respiratory tract, Chronic Obstructive Pulmonary Disease, Pulmonary fibrosis, Pneumoconiosis, Cor pulmonale, States after pneumonia and bronchitis , States after chest surgeries,


Rheumatic:
Rheumatoid arthritis,


Additional health offer:

Electrotherapy:
Electrostimulation, Ionophoresis, Diadynamics, Interdyn, Tens currents, Kotz currents, Trabert currents, Galvanisation,


Gymnastics:
Body conditioning, Cardiological gymnastics, Respiratory gymnastics, Spinal gymnastics,


Hydrotherapy:
Saline bath, Pearl bath, Whirlpool bath, CO2 bath, Peat bath, Carbonic acid bath, Revitalising bath, Relaxing bath, Warming bath, Underwater massage, Scotch douche,


Inhallations:
Ultrasound inhallation , Saline inhallation , Moisturising inhallation, Salt and iodium cave, Pneumatic inhallation ,


Light therapy :
Bioptron, Laser, Sollux,


Magnetotherapy:
PPM (pulsing magnetic field),


Massage:
Classical massage, Lymphatic massage, Mechanical massage, Pneumatic massage,


Other:
24 h – medical care, 24 h – nursing care,


Rehabilitation:
Ugul cabins, Rotors, Rehabilitation stays,


Renouveau biologique:
Sauna, Jacuzzi, General cryotherapy, Slimming stays,


Sound therapy:
Ultrasounds, Ultraphonophoresis,


Sport and recreation:
Tennis courts, Swimming pool, Fitness room, Gym, Ski lift, Aerobics, Aqua areobics, Nordic Walking,


Accommodation:

Types of rooms:
single, twin / double, ,

Wyposażenie pokoi:
WC, Prysznic, Telewizor, Radioodbiornik, Internet, Sejf, Telefon, Recznik, Czajnik,

Car park:
unguarded

A possibility of pet acceptance:
No

Adjusted for the disabled:
Yes

Total accommodation capacity:
835
Board type:

The following options are available:
Additional services:

conferences,
training sessions ,



The maximum number of participants in the event:
300

The following equipment can be hired / used:
audio
video
internet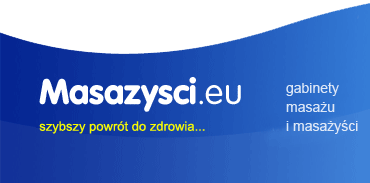 Masażyści
Po powrocie z sanatorium skorzystaj z usług masażysty. Już teraz sprawdź oferty masażystów w serwisie
www.Masazysci.eu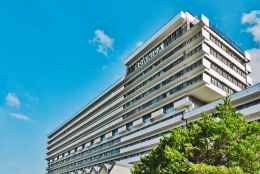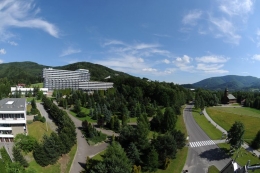 Pokój 2 osobowy Równica 8 piętro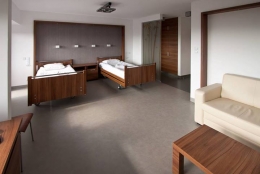 Pokój IX pietro Równica podwyższony standard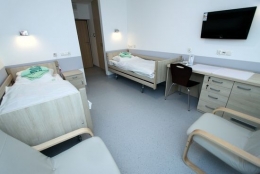 kriokomora równica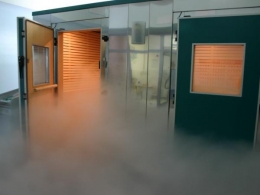 Baseny Równica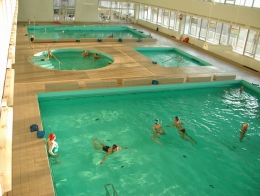 Apartament 8 piętro Równica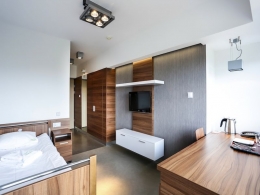 Wilga***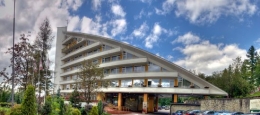 Prestige Club Medical & SPA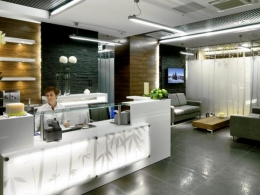 pokój 9 piętro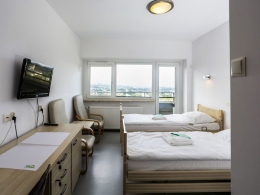 Rosomak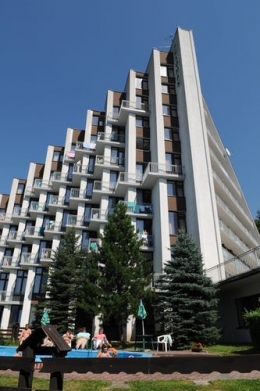 Pokój Rosomak 2 osobowy